England Furniture Inc.
---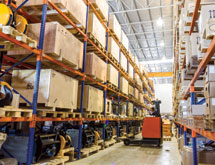 England Furniture's key to success is two-fold: It delivers high-quality, durable products and it delivers this furniture quicker than others.
Based in New Tazewell, Tenn., England Furniture delivers its orders to customers east of the Mississippi River in less than 21 days and west of the river in fewer than 28 days. It does this 99 percent of the time, regardless of the weather. 
This quick turnaround is a major advantage for its 1,300 retail customers, says Chip Keaton, vice president of manufacturing. "Our customers are major retailers across the country," he explains. "If they can get it quick enough from us, they don't have to stock it for customers and carry a lot of inventory."
---