Entropex
---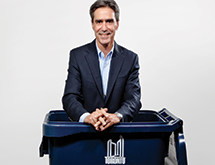 Plastic is one of the most versatile materials in the world, but it hasn't been until relatively recently that it was used to its fullest potential. For many years, plastic containers were manufactured, used once and then sent off to landfills. It wasn't until consumers and manufacturers started to recycle plastic that the true benefits of the material became fully realized, and Entropex has been one of the companies leading the way. 
For more than 35 years, Entropex has specialized in the reprocessing of post-consumer and post-industrial plastics, recycling used plastics and resins into materials that can be reused by manufacturers to create new products. President Keith Bechard says the company's initial focus was on recycling specific resins from refineries into materials used by the agricultural industry. From there, the company moved into processing post-consumer plastics from detergent bottles and other products, and today Entropex is one of the top suppliers of post-consumer plastics in North America.
 From its 180,000-square-foot facility in Sarnia, Ontario, Entropex processes more than 80,000 tons of plastic a year. As more consumers and manufacturers become cognizant of reducing their environmental impact, Entropex continues to lead the way in the development of processes that divert more plastics from landfills. 
---