Exi-Plast Custom Moulding Ltd.
---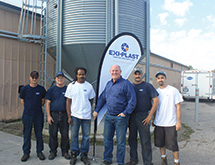 Specializing in custom plastic molding services, Exi-Plast Custom Moulding has 25 years of experience in development, production and finishing of custom plastic products. The company provides blow-molded solutions for designers, manufacturers and distributors worldwide.
"Our founder previously worked for a drainage tile company and started his own blow molding company to make drainage tile fittings," President Jeff Lang says. "We started with two blow molding machines and grew from there."
Key Elements
Today, Exi-Plast is an ISO 9001:2008-certified organization that can handle project management for its clients' blow molding projects, utilizing state-of-the-art robotic trim and finishing technology. The company has two of the largest blow molding machines in Ontario for custom molding. Alongside its custom molded work, Exi-Plast develops and manufactures a number of proprietary branded products sold by North American distributors and retailers.
---