FLSmidth Ltd. / Knelson Technologies
---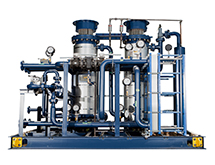 Knelson Technologies joined the FLSmidth Group in 2011 with the merger's ownership transition finalized earlier this year. Cement, minerals and engineering conglomerate FLSmidth Group is based in Copenhagen, Denmark, and employs more than 15,000 professionals with offices in more than 50 nations. 
It provides global cement and mineral industries with factories, machinery, services and know-how, the company says.
It acquired Knelson Technologies of British Columbia to improve its flow sheet for mineral processing and mines, thereby enhancing its precious metal offerings. The action also supports the group's ability to serve all customers' needs for process technology and integrated solutions, the company says. 
"Gravity separation for precious minerals was not in their portfolio and we are the world leader," says Pat Thornton, facility manager. 
---