Global Precision Parts Inc.
---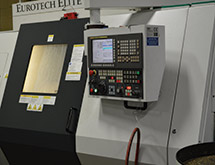 Global Precision Parts' products may be small, but they play a big role in securing the critical components of cars, agricultural equipment and other large pieces of equipment. Because of this, the company's customers expect its products to be of a high quality and ready to use from the moment they are received. 
"Our customers expect zero defective parts per million and 100 percent on-time delivery," according to Randy Mueller, president of the Van Wert, Ohio-headquartered company. 
"Our products go right to stock from the moment they hit the dock, with no need for our customers to inspect them," he adds. 
---