GPI Prototype & Manufacturing Services Inc.
---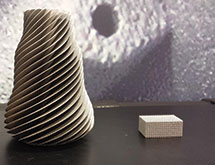 GPI Prototype & Manufacturing Services Inc. is a privately owned service provider that specializes in rapid prototyping and additive manufacturing to serve its rapidly growing customer base. Based in the Midwest, and consistent with their roots, the company and its employees pride themselves on being honest, hard working and committed to providing their clients with the highest-quality product with top-notch customer service. "We deliver value through measurable results that continuously exceed expectations. We love what we do!" says Adam Galloway, recently appointed president of GPI.
After three decades as a leader in product development and rapid prototyping, the company recently adapted its focus to the metals side of the  additive manufacturing business in an effort to better serve its customers. "We started GPI Prototype with plastics and quickly became a trusted supplier to our clients," Galloway states. Over time, the company's commitment to customer service, technical expertise, state-of-the-art production facilities and a continued investment in research and development established GPI as a preferred provider of rapid prototyping and direct digital manufacturing. 
---