Hadco Metal Trading Co.
---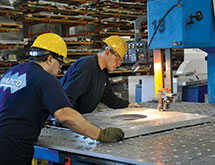 Manufacturers frequently depend on metal to be rigid and inflexible, but those are two words that could never be used to describe Hadco Metal Trading Co. CEO Gilad Fishman says the company stands apart from its competitors by being agile and responsive   to its customers' requests, and this is a major part of the reason why Hadco stands out as a leading provider of metal products to customers in North America and around the world. 
Hadco has been servicing the aluminum industry since the 1980s, but the company as it is known today truly took shape in 2006, when it was purchased by the Scope Metals Group. Fishman says that under the new owners' direction, Hadco evolved from a company specializing in aluminum extrusions on the East Coast to what it is today. 
---