Harrison Steel
---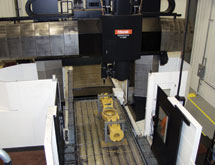 Harrison Steel can now say it's the total package in manufacturing steel castings. The company completed construction in January on a 29,000-square-foot building that includes two new, on-site finish machines that culminates the casting process.
For more than 100 years, Harrison Steel has been in the business of manufacturing steel castings for clients in the gas and oil, mining, energy, construction, military and agriculture industries. The business started with Vice President Geoffrey Curtis' great-grandfather, J.W. Harrison. 
The company's plant – which originated and continues to be located in Attica, Ind. – encompasses 650,568 square feet under one roof and is capable of producing castings ranging from 350 to 12,500 pounds net weight. 
---