Hawker Well Works
---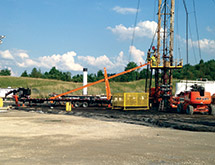 When oil boomed in North Dakota, Mike Jeseritz and his four partners sought a way to take advantage of the sudden economic prosperity. "We were looking for a way in," says Jeseritz, co-owner of Hawker Well Works.
The group eventually penetrated the burgeoning oil marketplace via man camps, prefabricated homes that serve as workforce lodging facilities for transient oilfield workers. "There was a big need for them in North Dakota," Jeseritz recalls. "Companies were looking for temporary housing for their employees."
Jeseritz and his partners came from varied business backgrounds, which was ideal for manufacturing and selling prefab housing. Jeseritz previously owned an auto repair station and was accustomed to interacting with customers. His partners brought sales, fabrication and finance experience to the mix. "Everyone had a specialty," he says.
---