Henniges Automotive
---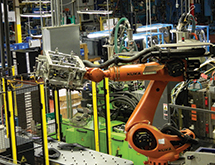 Global manufacturing operations have been at the heart of Henniges Automotive since the company's formation in 2007. The company operates 15 manufacturing plants and five engineering and technical centers in North America, Europe and Asia, and serves international automotive makers including Ford, General Motors, Chrysler, Daimler, BMW, Volkswagen.
The company – formed as the result of a merger between Metzeler Automotive Profile Systems North America and GDX Automotive – takes its name from a brand founded by GDX in Germany in 1951. Headquartered in Auburn Hills, Mich., Henniges Automotive designs, develops and manufactures vehicle sealing and anti-vibration products. 
Three recent alliances and an acquisition will allow Henniges to increase its international reach. "Our customers are moving more toward global platforms, as such, we're looking at ways to grow into those same regions to further support our key customers," Vice President of Global Sales and Marketing Boris Gavric says. 
Henniges in late 2013 announced alliances with Burkool S.A., a sealing solutions manufacturer based in Buenos Aires, Argentina; and Amee Rubber Industries Pvt. Ltd., a sealing systems producer with operations in India. Then in mid-January, it announced a customer specific strategic alliance with a specific Russian plant of the Croatian company AD Plastik. Furthermore, in January 2014, the company became the sole owner of Beijing Wanyuan-Henniges Sealing Systems Co. Ltd., which was formerly a joint venture with the China Academy of Launch Vehicle Technology.
---