HFI LLC
---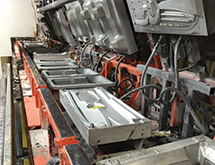 When Walt Dennis tells of HFI LLC's success, he thanks the power of love.
Three years after Honda opened its first motorcycle plant in the United States in 1979, the Japanese automaker was looking to set up automotive manufacturing about 60 miles from HFI's headquarters in Ohio. HFI was called House of Foam back then, and a purchasing agent working for a Honda supplier, Tokyo Seat Ltd (TS), saw an opportunity for the company to fabricate foam for the rear seats in the new American-made Honda Accord. Dennis, part-owner of the company, met with TS representatives in 1982 and affirmed House of Foam had the capability to manufacture the material.
As fortune had it, Dennis received an early morning phone call from the TS purchasing manager two weeks later. Tokyo Seat was in desperate need of help. The company that supplied foam parts to TS for the Accord failed to make the delivery the night before. TS had enough inventory to last until 10 a.m., but after those supplies ran out production would cease until the truck arrived. At the time, the Honda plant was producing 300 vehicles a day, so a production shutdown would have set back the auto manufacturer as it prepared for the Accord's release. 
---