Hoist Liftruck Manufacturing Inc.
---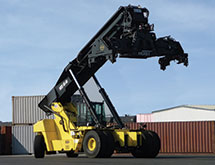 When companies – or the federal government – need some heavy lifting done, they look to the U.S.-made products of family owned Hoist Liftruck Manufacturing Inc. With origins dating back to 1980, the company now known as Hoist Liftruck Manufacturing Inc. was established by Marty Flaska from his house in the western suburbs of Chicago. Hoist Liftruck now manufactures a complete line of high-capacity internal combustion and electric forklift trucks for industries and governments worldwide.
The company's recently introduced FR series of lift trucks took 18 months to develop and introduces all the latest technology to a new product category for Hoist. Capable of lifting up to 80,000 pounds, the FR series enables Hoist Liftruck Manufacturing to appeal to a whole new product niche – companies known as riggers and machinery movers that move and set up large equipment. With the recent resurgence of manufacturing since the 2009 recession, machinery moving and rigging is a growing industry. 
---