Honda of South Carolina Mfg. Inc.
---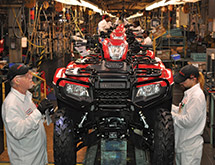 Growth requires effort, and the associates of Honda of South Carolina Mfg. Inc. as well as its suppliers are making efforts to add a second production shift and the new Pioneer 1000 side-by-side flagship multi-use vehicle to its annual production. The Pioneer 1000 is scheduled to be in dealers' showrooms by early October.
Besides adding the shift and additional associates, increasing production to that extent requires more production equipment. "We had to bring some more in-house tooling in to be able to produce that model," Honda of South Carolina President Brian Newman says. "We're a full manufacturing facility here. 
"We do our own plastic blow-molding for fuel tanks for all models and plastic injection molding of the larger component parts – such as fenders and side covers for the ATVs, and the front hood, fenders, grilles and instrument panels for the side-by-sides – as well as the side fenders," he says. "So we try to do as much as possible in-house with some of the more critical parts, especially appearance parts, with our injection machines."
---