Horton Automatics
---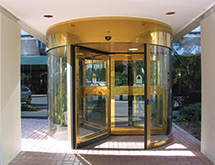 If you have walked into an airport, hospital or grocery store, there is a good chance you have walked through one of Horton Automatics' automatic doors. "We are good at adapting our design to meet the application needs for the end-customers," Vice President of Operations Bill Liles says.
The idea for the company came to founders Lew Hewitt and Dee Horton as they worked in the glass storefront business in 1950s. The two found that people had trouble operating swing doors in the windy city of Corpus Christi, Texas.
Together, both men invented an automatic sliding door that circumvented the windy conditions and formed Horton Automatics in 1960. Today, Liles says, the company has manufacturing sites in Corpus Christi; Matamoros, Mexico; and Telford, England.
---