Index Packaging Inc.
---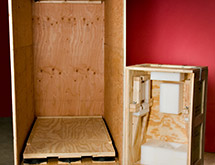 Index Packaging Inc. might be a more modestly sized player than some competitors, but no one is better at customer service or product delivery, President Mike Wiles asserts. "[If] the customer sends a request for a price quote, we're back to them within the hour," he says. "We make it a point to be everything they need."
Based in Milton, N.H., Index Packaging manufactures foam, wood and corrugated packaging products. Bill and Connie Lander founded the company in 1968 with their invention of the TIP (N) TELL shipping indicator. That helped plant "the seeds that started the company we are now," Wiles says.
Today, Index Packaging operates from a 120,000-square-foot facility that features equipment and warehouse space that can handle quick-turn, vendor-managed inventory or standard customer lead times. "A third of our customer base is distributors," Wiles says.
---