International Shipbreaking Ltd.
---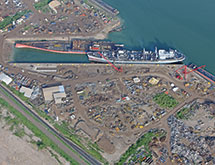 In August 2014, the Navy aircraft carrier USS Constellation began its final voyage. The 1,062-foot-long vessel, built in 1957 and decommissioned in 2003 after more than 40 years in service, embarked on a 16,000-mile trip around the southern tip of South America on a towline carried by an ocean-faring tugboat.
In January 2015, the carrier – once dubbed "America's Flagship" by President Ronald Reagan – will reach its final destination: the Brownsville, Texas, shipyard of International Shipbreaking Ltd., a specialized ship dismantling and recycling  facility founded in 1995. 
---