Kaman Composites Vermont Inc.
---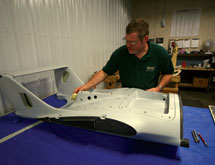 Kaman Composites Vermont Inc. has earned success by working closely with clients, General Manager Jim Sharkey says. As the company itself has grown over the last 33 years, "We've built [long-standing] customer relationships," he says.
The Bennington, Vt.-based firm designs and manufactures composite structures for the aerospace, industrial and medical industries. Kaman Composites' history goes back to 1979, when Fothergill & Harvey, a U.K.-based technical textile manufacturer, formed a joint venture with Oak Industries, based in Hoosick Falls, N.Y.
---