Katecho Inc.
---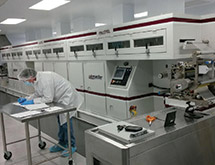 Discipline is the driver behind Katecho Inc.'s success. "The best definition of 'discipline' is following a set of rules top to bottom," according to Drew Woodworth, vice president of operations.
Katecho Inc. is a full-service contract manufacturer of pharmaceutical, medical and cosmetic products that specializes in hydrogel processing and advanced printing techniques.
The company offers a wide variety of services, including product testing, engineering and design, regulatory support, manufacturing, inventory management, warehousing and transportation logistics. 
---