Kettering University
---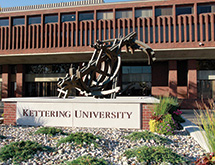 Kettering University is using its online master's program in lean manufacturing to bring its tradition of shaping industrial leaders to a global student body.
During the past century, Kettering's legacy of groundbreaking research has earned the respect of the manufacturing industry. The Flint, Mich., campus was founded in 1919 as The School of Automobile Trades with the goal of training engineering and management personnel. 
In 1926, the school tightened its ties with the surrounding automotive industry when General Motors (GM) purchased the college and renamed it the General Motors Institute (GMI). It became a place for GM to train its engineers and managers and prepare its employees for future roles in the company. The university became independent in 1982, eventually adopting the Kettering University name in 1998.
---