L&H Industrial
---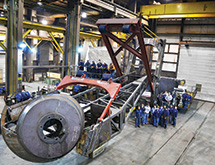 Times are tough in the industries that L&H Industrial serves, but the company has not let turbulent economic times become a setback. Rather, it is working closely with its customers to offer superior solutions and service.
The Gillette, Wyo.-based company is a multifaceted organization known for heavy equipment manufacturing and repair, field service, and design and engineering. L&H Industrial's plethora of offerings, coupled with close relationships with customers, has been a major component of the company's long-term success for more than 50 years.
L&H Industrial was founded in 1964 by Leon Wandler and Hank Barney with six employees. Six years later, the company began performing coal mine repair work and ultimately shifted its focus to serving local coal markets. 
---