Lift Technologies Inc.
---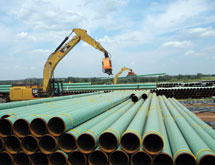 For a modestly sized operation, Lift Technologies shows an amazing amount of strength. Founded in 2005 by David and Jennifer Black, the company perfected a technology that employs the use of vacuum suction to move large-diameter piping. Lift Technologies has created the LT30, a vacuum lifter that can accommodate pipe joints ranging in diameter from 6 to 48 inches. 
In addition, it can handle materials ranging from steel and concrete to plastic. This vacuum lift technology, originally developed in Australia, was brought to U.S. markets in 2000. 
---