Lissmac USA
---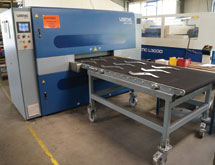 Industries that rely on metal parts expect them to be safe to handle and free of sharp edges that could cause injuries. Lissmac USA plays a part in helping its customers deliver that level of safety, Vice President Ingo Heiland says.
Based in Waterford, N.Y., the company is the U.S. operation of Lissmac GMBH. The Germany-based manufacturer specializes in construction technology, handling equipment, metal processing and complete plant engineering, "where we design and build complete plants," Heiland explains. 
"Over here in the United States, we're only working on metal processing and handling equipment," Heiland says. Lissmac USA serves customers in the agriculture, automotive and airplane industries, including John Deere and Bombardier. Lissmac also provides metal finishing, deburring and edge-rounding solutions to job shops, precision sheet metal shops and steel service centers here in the United States.
---