Locweld Inc.
---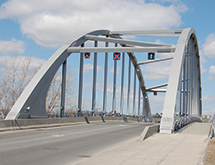 Locweld Inc., the largest lattice transmission tower and substation structure manufacturer in North America, focuses on providing top-level service to its customers. Founded in 1947, the company started making garage and patio doors before switching to its current product in the 1950s. It operates on 30 acres of land in suburban Montreal with 220,000 square feet of manufacturing space. Locweld has a 50,000-ton annual capacity, new equipment, and an in-house galvanizing and design team. 
The company produces between 1,000 to 1,500 transmission towers per year. "Many people who are not in this business might be surprised to learn that each tower is not identical. When driving down the street, they all may look the same but they are not," says Terry Gilliland, executive vice president.
Each transmission tower is designed according to precise heights and elevation specification to carry the power wires. Typical ice, wind and other weather conditions for the site are also factored into the designs, as well as the distance from pole to pole. "People probably don't realize how much engineering goes into these," Gilliland notes. 
As such, Locweld is a custom producer, not a mass manufacturer. As soon as one structure is done, it moves onto drawings for the next.
---