Machinewell
---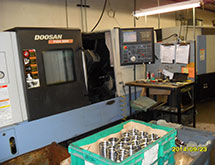 Machinewell Inc. of Grygla, Minn., is a top job shop for machined parts. Founded in 1976, it specializes in the machining, welding and fabricating of components and assemblies. It currently serves more than 80 customers.
These customers include leading manufacturers of recreational vehicles and additional high performance parts, playground and exercise equipment, military sectors, industrial restaurant assemblies, fire suppression components, agricultural equipment add-ons and many more.
Machinewell often sells its parts to dealers who in turn provide them directly to end-users, making it a 3rd tier supplier. 
---