Macrodyne Technologies Inc.
---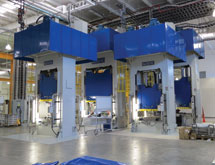 Macrodyne Technologies Inc. may not be the largest firm in its industry, but the company sees its modest size as an advantage, President Andrew Kirk says. "We're small enough to be cost effective and responsive to customers," he explains. "When they need something, they need it now."
Based in Concord, Ontario, Macrodyne produces hydraulic presses, press lines and die-handling equipment. Kirk co-founded the company in 1989 after working in the hydraulic press industry for many years.
---