Marathon Industries
---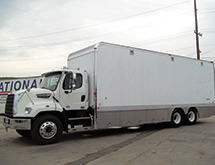 Marathon Industries has more than 40 years in the truck body industry. In 1993, it purchased Satellite Truck Body, which was founded in 1970. Today, Marathon's core competency is the manufacture, assembly, installation and repair of truck bodies, trailers and transportation equipment. 
"We strive to be a single source of products, service and information for our customers," President and CEO Chad Hess says. 
Marathon is headquartered in Santa Clarita, Calif., a northern suburb of Los Angeles. In Santa Clarita, it has more than 10 acres of production, chassis storage, administrative space and a retail showroom. Its facilities include roughly 100,000 square feet of manufacturing space.
"We don't have a traditional assembly line," Hess says. "We have more of cell-based approach."
---