Maryn International
---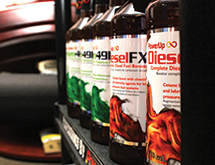 Some companies stagnate in their old business models, but not MARYN International. Co-owner Mark Bishop says the company continuously focuses on improving and reinventing itself. "It's worked out well for us," he asserts.
Calgary, Alberta, Canada-based MARYN International manufactures performance lubricants and hydraulic oils. Bishop says he started at the company 36 years ago as a salesman of lubricant additive packages.
At the time, "This was a summer job," he recalls, noting that he planned to go to law school. "After the first year of doing this, I realized that this was probably a good thing to continue."
As Bishop stayed with MARYN International, it added innovations to advance its lubricant technology. Many lubrication producers approached the company about developing products that performed under demanding applications.
Since its start, MARYN International has grown its SKUs from one to 116. "We've changed from additive packages to finished fluids," Bishop says, adding that it makes customized products, as well.
"If they're looking for specialized products to accomplish [a specific] purpose, we can do that for them," he says. "We're not tied down to a specific product blend. One of the things that makes us unique and successful is our willingness to provide clients exactly what they're looking for."
---