MeadWestvaco Corp.
---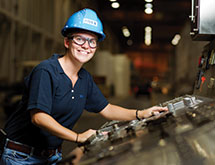 When brands like Procter & Gamble, Kellogg's or Unilever need a reliable source of packaging, they turn to MeadWestvaco (MWV) Corp. "We serve directly some of the largest brand owners in the world," Executive Vice President of Global Operations Robert Feeser says. 
Based in Richmond, Va., MWV is a packaging firm that serves the food, beverage, tobacco, beauty and personal care, healthcare, and home and garden markets. Along with brands, "In some cases, we are also selling to converting partners who produce and sell finished packaging to those consumer packaged goods [CPGs] companies," Feeser says.
MWV was formed in 2002 from the merger of The Mead Corp. and Westvaco. Today, "We're either No. 1 or No. 2 in terms of overall position in the segments we participate in around packaging," he says.
---