Milwaukee Electronics
---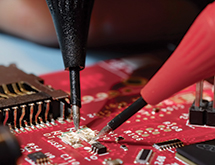 Over the years, Milwaukee Electronics has strived to be all things, but not necessarily to all people. It's true that the company provides electronics manufacturing services for approximately 20 industries – such as appliances, foodservice equipment and dental equipment – but it looks for a very special client within those markets. 
"We like the industrial companies that don't need 2 million parts a year," says owner and President Michael Stoehr. "Instead, we look for companies that need 500 to 5,000 a year for their production. We wouldn't make refrigerator controls for a company like General Electric. But if there is refrigerator manufacturer who builds a specific refrigerator with a unique technology or application, that is right up our alley. We can design something specific to their needs and leapfrog over the competition." 
In general, the company focuses on the placement of parts on electronic circuit boards that allow a wide array of Web-based and electronic-based products to function. But when taking a broader look, it's apparent that Milwaukee Electronics has added to its list of services in order to serve clients more efficiently. 
---