MKT Metal Manufacturing
---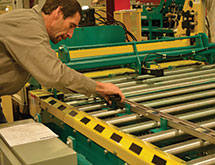 MKT Metal Manufacturing is a pure OEM, located in York, Pa. Primarily, it caters to the construction industry as a direct supplier to mechanical and sheet metal contractors, most located within a 250-mile radius of its facility. 
Customer demand requires MKT to run two shifts in its rectangular and spiral shops. "Our manpower 
is our No. 1 asset," Ken, President and CEO explains. 
"Our success is because of our workforce," he adds. "York, Pa., is a great place for manufacturing. It is because of the work ethic of the labor [here]." In fact, York is a major manufacturing region in the nation. 
---