North River Boats
---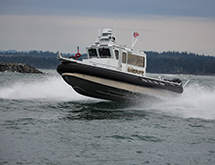 Like many businesses, North River Boats (NRB) felt the grip of the recession when the company witnessed the recreational boat business dry up. Coupled with a leadership shakeup, the company saw its capital and workforce dramatically reduced. Five years later, however, the company is thriving thanks to new leadership and a rebounding economy. 
Founded 28 years ago, NRB manufactures premium heavy-gauge aluminum boats, serving government, recreational and commercial customers. In its early years, NRB developed a reputation for building top-of-the-line recreational aluminum jet boats. NRB added a line of heavy-gauge commercial and government vessels through the purchase of Washington-based company Almar about a decade ago. Almar's operations were folded into North River Boats' operations shortly after that acquisition. The company grew to become the largest manufacturer of heavy-gauge recreational aluminum boats in the United States by 2007, selling more than 1,200 boats per year. 
However, when the company faced a leadership shakeup in 2009, a receiver was appointed who ran the company for three years. During this time, the workforce was reduced dramatically. But despite these changes, CEO Brent Hutchings praises NRB's dedicated staff for keeping the company afloat. 
"NRB's dedicated employees protected the company's sterling reputation for quality, service and craftsmanship while in receivership," Hutchings says. "The company also won contracts from the U.S. Coast Guard and U.S. Navy during this period, in addition to orders from many other municipal and commercial customers." 
---