NOW Health Group Inc.
---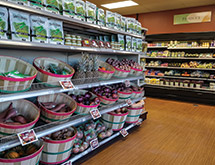 NOW® Foods got its start more than 45 years ago as a sideline to the founding family's soy products business. But Elwood Richard and his brothers, Louis and Bill, never expected to be major players in the natural products market.
NOW easily fits that description today as a top-selling brand in health food stores and an award-winning manufacturer. The company is dedicated to providing customers with a comprehensive approach to wellness by offering more than 1,400 high-quality natural and affordable products, from nutrient-rich foods and supplements to personal care and sports nutrition items. NOW products are sold throughout the United States and 65 other countries. 
"We are a one-stop shop for a lot of retailers," says Dan Richard, national sales director. "Our target customers are health-conscious individuals." That particular market is growing as more people place a greater emphasis on good nutrition, fitness and overall wellness.
---