Parlec Inc.
---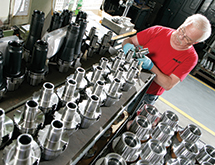 Parlec Inc. is best known for manufacturing accessory products for the metal cutting industry, but the company didn't start out that way.
It began in Rochester, N.Y., in 1948 producing sulky hubs for harness racing. It was then a manufacturing shop for many years until an engineer acquired it in the 1970s and started developing and patenting products. In the late 1970s, Parlec began producing tool holders and started developing its product lines.
"Our business is tied very closely to machine tool sales," says Chris Nuccitelli, vice president of sales and marketing. "The more machine tools people buy, the more machine tool holders they will need."
In 1985, Parlec built a 42,000-square-foot manufacturing facility in Fairport just outside of Rochester, N.Y. Then in 1992, it started to manufacture and distribute a line of boring tools. After this, things really took off. Sales tripled from 1992 to 1997, when it became ISO 9001 certified.
With sales continuing to increase, the company added workholding to its product line in 1998 and enhanced production with a 58,000-square-foot plant addition to its factory.
---