Picard Ovens/Sipromac
---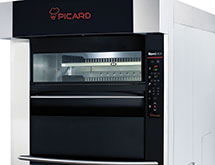 A recent merger between two Quebec, Canada-based food industry equipment suppliers will enable both operations to expand their market reach. Sipromac, a 30-year-old food packaging and processing specialist, in March 2014 acquired Picard Ovens, which is a 60-year-old bakery and pizza oven manufacturer. "We were attracted to Picard because of its history and the unique products it has developed," explains Vincent Tourigny, a shareholder in the unified company who also serves as its CFO.
"We saw this merger as a great opportunity for two like-minded companies to come together."
The union of the two companies will enable both to gain market share and attract large high-end grocery chain customers such as Whole Foods, which has started to use the ovens in some of their bakeries.
---