Polyscience, a division of Preston Industries Inc.
---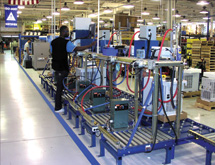 Everyone knows what a griddle does. But what if you poured the pancake batter on a griddle and the batter froze instead of frying? That would just be a normal day at Polyscience, where creative thinking made the Anti-Griddle possible, a griddle that freezes food instead of frying it.
Developed for enthusiasts of gastronomy – such as starry-guided Michelin chefs – the Anti-Griddle is used to prepare unique desserts, sauces, purees, crèmes and foams. It can freeze liquids poured on it solid or with liquid centers. Polyscience also sells The Smoking Gun, a smoker that looks like a hairdryer and can enhance many foods – such as butter, oysters, salads, cocktails or chocolate – with a smoky aroma and flavor that would be difficult if not impossible to produce any other way.
---