Prima Power Laserdyne
---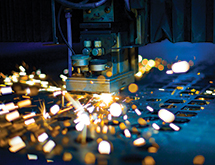 There's a concept in modern science called "Fine-Tuned Universe." The theory is that if any number of physical constants – the position of the sun, for example, or the earth's tilt – were even minutely different from what they are now, life as we know it would not exist. A different universe could be possible, but not this one. Without precision, some things just don't work. And it's not just true for the universe as a whole, but for many events that happen within it, especially when it comes to manufacturing. 
"In the market sectors in which we specialize, there's a trend toward the need for greater precision and consistency from one part to the next," explains Terry VanderWert, president of Prima Power Laserdyne. "Whether it's in the mechanics of the system, control capability of the system or the laser source – the elements of the system are brought together in a way that gives more consistent laser processing. That is ultimately the great theme of precision." 
And well it should be. Prima Power Laserdyne, a subsidiary of Italy-based Prima Industrie, designs and manufactures laser systems used for cutting, welding and drilling. The company has positioned itself as a leader in 3-D laser systems with a wide range of top-performance and highly efficient systems used around the globe. It serves major clients in the aerospace industry, which is its main customer base. 
---