Purcell Tire & Rubber Co.
---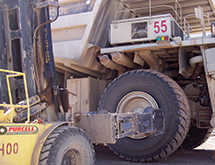 If something has wheels, the odds are that it needs tires. And, if something needs tires, the odds are that Purcell Tire & Rubber Co. has whatever it needs to keep those tires on the road. Vice President of Manufacturing Brian Hayes says one of the primary reasons the company has been successful for more than 75 years is that it has a nearly limitless scope of tire-related products and services. "We sell everything from a wheelbarrow tire all the way up to the largest mining tires," he says. 
The company was founded in 1936 by Robert M. Purcell, who opened the first location in Washington, Mo. Fifteen years later, he opened the company's second location in Granite City, Ill., and the third location in DeSoto, Mo., followed in 1964. Today, Purcell Tire & Rubber Co. has more than 65 locations that stretch from Pennsylvania to Nevada, and it is the third-largest independent commercial tire dealership in North America. 
---