Rowley Spring & Stamping Co.
---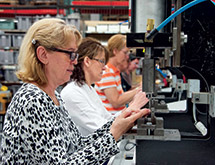 You don't have to look very far to find a product manufactured by Rowley Spring & Stamping Co. "We make springs and stampings for a number of different industries including military and defense, automotive, appliances and residential," says John Dellalana, president of the Bristol, Conn.-based manufacturer. "You probably have a Rowley part in your car, home or business."
Rowley springs and stampings can be found in applications as diverse as car window mechanisms, electrical outlet contacts, firearm triggers and sights and grenade pull pins. The company is also a supplier of the parts used in the spring mechanisms of the "popper" in Hasbro's classic board game Trouble.
---