S&C Electric Canada Ltd.
---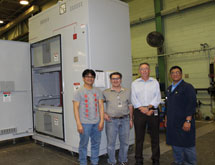 S&C Electric Co. started in 1911 from a groundbreaking idea for electric utilities. One century later, the company continues to be a leading supplier of equipment and services for electric power systems, offering innovative solutions for enhancing grid reliability, capacity and efficiency.
The Chicago-based company was founded when electric utilities were rapidly expanding, but breakdowns in substations were regular occurrences because the technologies for interrupting currents were inadequate. After a major fire in 1909 at Commonwealth Edison's Fisk Generating Station in Chicago, the utility asked engineers Edmund O. Schweitzer and Nicholas J. Conrad to find a better solution for taming high-voltage arcing. 
---