SETCO Inc.
---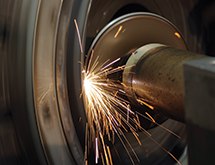 After more than a century, SETCO Inc. has not stopped focusing on ways it can be more productive, President Jeff Clark says. "Quality today is a given," he says. "You have to strive to [find out] how you can be better than the next person."
Based in Cincinnati, SETCO designs, builds and services precision spindles, and stands as the largest independent spindle manufacturer in the nation, Clark says. The company originally started operations in 1912 as Standard Electric Tool Co., and manufactured grinders for the foundry industry.
In the 1950s and 1960s, SETCO began making machine tool spindles. Today, the company makes specialized spindles for a variety of industries, including oil, glass, aerospace and automotive, which represents a large share of SETCO's business. "General Motors is a large customer of ours," Clark adds.
---