Smithco Engineering Inc.
---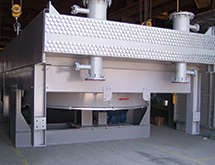 Smithco Engineering Inc.'s employees do their jobs every day with pride in their work, Vice President and General Manager Scott Edwards says. "The team members at Smithco are excited to be part of it," he says. "We've created something where everyone is proud to have the Smithco badge on their shirt."
Tulsa, Okla.-based Smithco designs, manufactures and supports custom-built, air-cooled heat exchangers for the refining and processing industries. Founder Orville Smith started the company out of his garage in 1952. "The money to build the first cooler came from Mrs. Smith's sugar jar," Edwards says.
---