Spartan Light Metal Products
---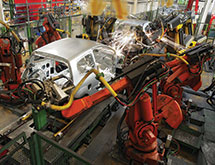 Toyota supplier Spartan Light Metal Products is a family owned aluminum and magnesium die cast manufacturing company. The staff is expert in machining, assembly, design and analysis. Its reputation for quality, service and value has made the company a valuable partner with a wide range of manufacturers, from automobiles and trucks to power tools.
"Our scope of experience includes design, engineering assistance and strict quality and process control for complex products," the company says. 
Headquartered in St. Louis, the company operates manufacturing plants in Hannibal and Mexico, Mo., and Sparta, Ill.  It also has sales offices in Detroit, Tokyo, Japan and Landstuhl, Germany. Operations include heat treating, finishing, machining and assembly. Toyota is its largest customer.
---