Spence Engineering Co. Inc.
---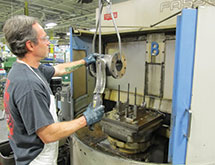 Pressure-reducing regulators are used in systems that circulate steam or hot water in closed loops to provide heat. In 1925, Paulsen Spence designed the first normally closed, pilot-operated, diaphragm-actuated pressure regulator and called it the Spence Type ED. Now a business unit of Circor, Spence Engineering Co. Inc. carries forward the founder's reputation for products manufactured with high reliability and great longevity.
"We have products that have been reliably running for 40 years without rebuilding," Site Leader Stephen Gross declares. He attributes that longevity to the products' robust yet simple designs and the repeatability of the company's manufacturing processes.
---