SSI Shredding Systems Inc.
---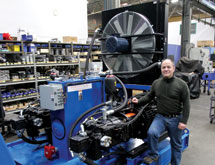 At SSI Shredding Systems Inc., "'No' is a word we try to keep out of our vocabulary," President and founder Tom Garnier says, explaining that the company is always up for whatever challenge its customers may bring to the firm. "We're proud of [that] spirit."
The Wilsonville, Ore.-based firm designs and manufactures low-speed, high-torque industrial shredding systems that can handle a variety of materials, ranging from paper to an automobile. Garnier founded the firm in 1981 as a service company that disposed of waste.
---