Stant
---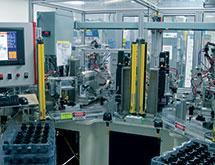 People of a certain age might remember how smelly cars used to be. The smell lingered in the garage even after the car pulled out, and pumping gas at the station was an odorous affair.
"That doesn't happen now," Stant President and CEO Curt S. Howell says. "Our parts trap that vapor and give it back to the engine to combust, which improves miles per gallon and air quality."
Indiana-based Stant is a world leader in the design and manufacturing of vapor management systems, as well as fuel delivery systems and thermal management systems, and a provider of other engineering services. The company makes fuel closure caps, on-board vapor recovery components and engine and transmission cooling components for the automotive industry. 
---