Star International Holdings Inc.
---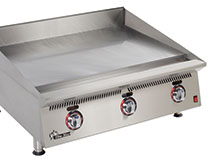 After more than 90 years, Star International Holdings Inc. stands as a leader in its industry, President Brian Kearins says. "We are known for our technology, innovativeness and value to our customer," he says.
Based in St. Louis, the company designs and manufactures commercial foodservice equipment, including griddles, char broilers, drawer warmers, conveyor and convention ovens, and sandwich grills. Kearins notes that Star International started operations in 1923 as a small equipment company.
Jullian Burch, the founder of Star International began building electric popcorn poppers in 1923. Over the years, Star International management expanded the product line to include broilers, fryers and griddles.  Star International acquired Helmco Lacy in 1962, ToastMaster in 1997, Holman in 2002 and Lang in 2007.  In 2008, the Middleby Corp. purchased Star International and in 2009, merged Star International with Wells Bloomfield.  
---