Suburban Manufacturing Inc.
---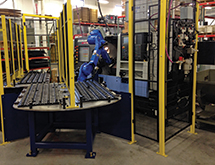 Many of Suburban Manufacturing Inc.'s employees were initially skeptical of the company's implementation of lean initiatives three years ago. "Our company has been around for 34 years, and we've had people who have been here a long time and were used to the way things were done," CEO Peter Thompson says. "At our first few lean meetings, people said I was insane when I told them we were making investments in procedures that would reduce our setup time by 80 percent."
That skepticism was quickly replaced by enthusiasm once the Monticello, Minn.-based company's investments in technology, equipment and processes resulted in not only greater efficiency, but also a significant increase in its sales and capabilities. "The lean process was truly transformative once our staff was trained, got involved and saw results," Thompson adds.
The company has significantly grown its marketshare and product lines in the past three years, and has a goal to double its size within five years. "We wouldn't be where we are without taking risks and making investments," Thompson says. 
---