Superior Essex International
---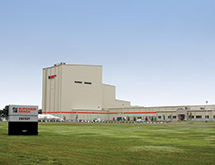 With a legacy that stretches back to 1937, Superior Essex International LP has grown into a leading supplier of communications and electrical energy cables. Headquartered in Atlanta, the company maintains multiple communications and energy cable manufacturing plants in the United States, including its latest facility, which produces a wide range of cables for the electrical market.
The latest expansion into the electrical energy markets has been a natural step since Superior Essex was acquired in 2007 by LS Cable & System. The third-largest cable company in the world, LS Cable & System is known for its engineering services, installation and commissioning of high-voltage and extra-high-voltage landlines as well as turnkey submarine cabling projects. 
"With the resources and technological backing of LS Cable, we have been able to expand our product offering and break into new markets," says Steve Waller, vice president of sales and marketing for Superior Essex's energy division.
---