Superior Fabrication Inc.
---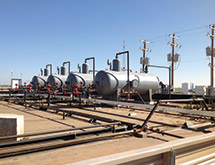 When oil and gas producers need separators, crude oil treaters and fired heaters, they often turn to Superior Fabrication Inc. (SPI). Based in Elk City, Okla., the company custom fabricates production equipment for its clients.
President and CEO Terry Morse co-founded the company in July 1997 with Mike Fields in the heart of the Anadarko basin oil and gas field. At the time, both men saw a need for a quality provider of pressure vessels and related services.
Morse and Fields initially started SFI in an 11,000-square-foot space in Elk City and worked alongside their staff of seven. Eight years later, the partners established the Superior Fabrication Inc. Employee Stock Ownership Plan and sold their interest to the employees. 
---