Taper Roller Bearings Inc.
---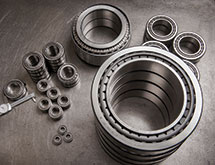 Tapered roller bearings are used in a wide variety of equipment, including automobiles, printing presses, military vehicles, food pumps, and even in equipment to hydraulically fracture oil and natural gas wells.
The ability to ship bearings same-day, at least 80 percent of the time, is the specialty of Taper Roller Bearings (TRB) Inc., Lexington, Ky. The company remains dedicated to providing same-day response to distribution requirements by maintaining superior inventory levels for assemblies as well as exemplary associate teamwork. 
"It's about innovation," President and CEO Tom Jones proclaims. "We build assemblies for four of the five largest bearing manufacturers on the planet. We strive to exceed our customers' inventory requirements by being prepared for their maximum usage at any given time of the year. That enables our customers to rest assured they are insulated against any potential slowdown in the external inventory system, such as a dock strike that can wreak havoc with delivery times. This eliminates any potential negative impacts to our customers and ensures a constant flow of product with just-in-time or same-day delivery."
---